Disclaimer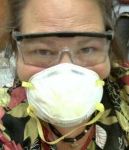 My initial batch of 900 jars, while packaged under clean and safe conditions was not completed with FDA approval. The new jars will be in complete compliance with the FDA requirements for GMP (Good Manufacturing Practices.) This will be reflected by new labeling that includes nutritional information such as calorie content as required. If this causes you any concern, wait until I have received my FDA approval. I was anxious to provide this product to you. I personally mixed this tea with my own gloved hands and carefully monitored the jar filling. I sealed each jar myself.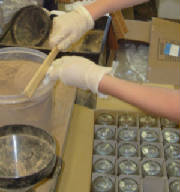 These sterilized jars were filled by me and my friends. We used rubber gloves and face masks and worked in a plastic covered clean environment. I was faced with many obstacles during this process, including closing my shop to maintain my "clean room," but none were more challenging than the actual bottling and labeling of the tea. I came up with the idea to roll on food grade paraffin and then use wax paper. You will see that there are occasionally drips of wax on the bottle and the wax paper hangs over the edge. I did not try to seal this like an instant coffee. I just wanted to make a water proof and mostly airtight barrier between the tea and the food grade plastic liner in the lid. I believe that for this phase of production, it is safe and has provided a good enough seal to protect the product from any kind of infiltration and keep it fresh for this limited run. The label is complete and accurate but does not comply with FDA standards. There simply wasn't room for everything required by the government on a label that I designed on my computer and printed at home. Though all that is missing is the nutritional analysis/calorie and fat count and that is on its way.

I am so very interested in sharing these herbs with you. They have done so much for me. I am challenged daily, not only by cancer and age but by simply living in the world we live in. If you have any hesitations about buying a product that lacks approvals, follow the instructions for a
free sample
and wait until the next run of my product when the label will be compliant. Be advised that the price will probably reflect it. If you have any interest in any of these herbs, you already know what they cost. Take advantage of the fact that I really want to spread them around!
Go, Padres!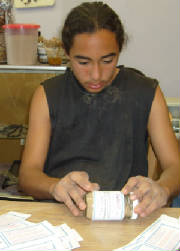 addendum....March 7, 2014
I just went through the same process for the 4th time. I made the newest batch of Zana13 Adaptogenic Tea in my store. I had to close for 2 weeks and remove all the merchandise and cover everything with sheets and plastic but its finished and as excellent as the very first batch was back in 2006. I still do not have official FDA sanction because I haven't had the nutritional analysis completed.
Since I am now adding a product which contains sugar (Zana13 Aaptogenic Tea does not contain any added sugar but Zana Super Fruit Sweet Berry contains agave), I will be getting both formulas tested and soon be able to label them accordingly. Thanks for your patience and understanding.